Ichthyosis is a genodermatosis described in both humans and dogs. In the latter, several breeds are affected and present very different forms : terriers like Norfolk Terrier and Jack Russel Terrier, Cavalier King Charles, Golden Retriever and others breeds are less frequently affected, and / or not yet described.
Clinical signs generally appear in the puppies and persist throughout the animal's life. The symptoms are characterized by numerous scales (dandruffs) of small size in the puppies and larger in adults, white then/or black, mainly on the trunk and particularly visible on the belly. These dandruffs give a dirty and scaly aspect to the skin; it becomes dry, rough and over pigmented. The itching is not very marked. In the most sever forms, infectious complications (bacterial, fungal or parasitic) are observed. In the most asymptomatic (mild) forms, only scales and / or hyper-pigmented skin are visible at the folds of the paws or in the ears.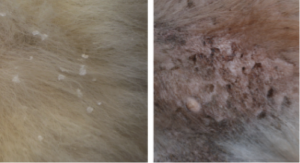 Photos Eric Guaguere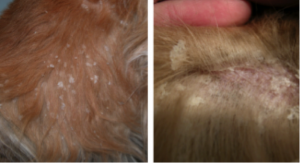 Photos Xavier Langon
In Norfolk Terrier and Jack Russel Terrier, the genetic basis of ichthyosis were identified in 2005 and 2009, respectively, and the identified genes were already implicated in human ichthyoses.
Our team identified the gene and the mutation responsible for ichthyosis of the Golden Retriever in 2012. We also showed, in collaboration with Prof. Judith Fisher, that this gene was also responsible for Autosomal Recessive Autosomal Ichthyosis (ARCI) in human. This project was realized thanks to veterinary specialists in dermatology, Dr. Eric Guaguère (Lomme, France) and Emmanuel Bensignor (Cesson-Sévigné, France), in close collaboration with Dr. Frédérique Degorce (LAPVSO, Toulouse, France), Dr. Jacques Fontaine (University of Liège, Belgium) and Didier Pin (VetAgroSup National Veterinary School of Lyon), and with the help of many veterinarians including Thierry Bord, Xavier Langon, Pascal Prélaud, Marie-Dominique Vaillant, Arnaud Muller … , breeders and owners whom we thank especially. If you know of other breeds, please also contact us.
We collect samples of dog breeds affected by this disease whose genetic cause is not yet known. Thus, we need blood samples from many dogs (affected, carriers or unaffected) and their relatives to extract the DNA. The research strategy for genetic causes consists in comparing the genomes (all 38 chromosomes + XY) of a large number of affected and unaffected dogs to identify the chromosomal region (s) containing the gene (s) involved ( s) in ichthyosis and the causative mutation (s).
To participate in this research project, please send us:
a blood sample on EDTA tube: CNRS_Ichtyose_Protocole_Toutes races
a completed clinical questionnaire and / or a photocopy of clinical results or histological analysis: CNRS_Ichtyose_Questionnaire
a copy of the pedigree (if available)
if possible a skin biopsy, in specific environments for additional analyzes (tubes provided by us). Send samples at room temperature.
We remind you that the data collected by the CNRS are confidential.
For more information, you can contact our team by phone at +33 (0)2 23 23 45 09 or by email :
Scientific Press : 
Grall A, Guaguère E, Planchais S, Grond S, Bourrat E, Hausser I, Hitte C, Le Gallo M, Derbois C, Kim GJ, Lagoutte L, Degorce-Rubiales F, Radner FP, Thomas A, Küry S, Bensignor E, Fontaine J, Pin D, Zimmermann R, Zechner R, Lathrop M, Galibert F, André C, Fischer J. PNPLA1 mutations cause autosomal recessive congenital ichthyosis in golden retriever dogs and humans. Nat Genet. 2012 Jan 15;44(2):140-7. doi: 10.1038/ng.1056.